As one of the world's leading producers of self-adhesive tapes, tesa is supporting the automotive industry in finding solutions to reduce volatile organic compounds (VOCs) in car interiors and improve the air quality inside vehicles.They are following a clear 'low emission' strategy to fulfil the global demand for less VOCs.
These VOCs can be found in adhesives, fabrics, plastics, and other materials that are used in the construction of a vehicle, emitting the smell through a process known as out-gassing – the release of gas that was previously absorbed or trapped in those materials.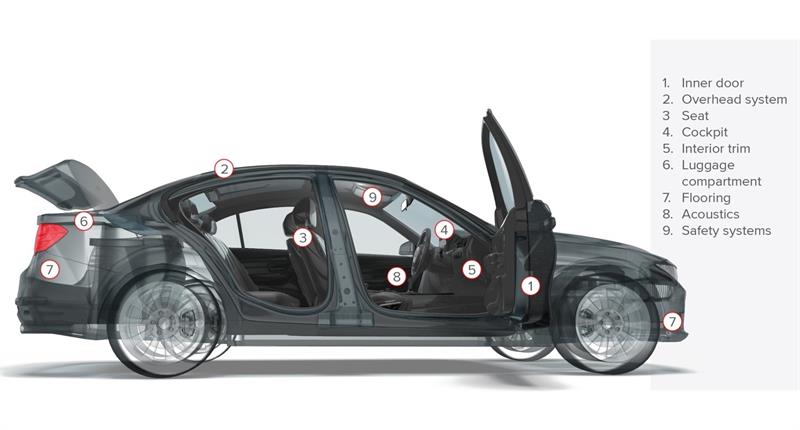 tesa's low VOC and ultra-low VOC tapes are designed to meet OEM emission limits on substances used in automotive manufacturing, including Benzene, Toluene, Xylene, Ethylbenzene, Styrene, Formaldehyde, Acetaldehyde and Acrolein.Based on the nomination limit according to the Global Automotive Declarable Substance List (GADSL), its core assortment of 29 different tapes in various thicknesses and adhesive backings can be used in applications requiring immediate adhesion to rough surfaces, with polar plastics (e.g. ABS) and non-polar plastics (e.g. PP).
Interior Mounting Solutions
tesa's product range for automotive industry interior applications, cable mounting, cockpit and doors consists of two environmentally friendly segments. In addition to a Low VOC label for adhesive tapes, the company has created Ultra Low VOC tapes – a new segment for products with very low total emission values.
Low VOC declarations in the automotive sector are not subject to a definitive and clear set of global guidelines. However, tesa has used the Chinese GB standards as its benchmark since China is a leader in terms of low VOC standards. According to the overarching Global Automotive Declarable Substances List (GADSL), there are about 3,000 substances that require declaration in the automotive sector. The new more stringent guidelines for automotive interiors have addressed between 8 and 13 substances. The products in tesa's low VOC portfolio contain neither the substances prohibited under the new Chinese GB standards nor under Japan's JAMA standards.
Mike Poulton, Key Account Manager – Automotive at tesa UK, commented "tesa takes its commitment to customers and the environment seriously, following a clear low emissions strategy to fulfil the global demand for better air quality inside a vehicle. Because automotive OEMs set clear emission standards according to strict government regulations, our tapes are especially designed to meet these new emission limits – in any country or automotive market."