Permabond, will be exhibiting at the Southern Manufacturing and Electronics show in Farnborough, 11th – 13th February 2020, where they will be showcasing their latest adhesive developments.
Permabond ET5441 - a new thermally conductive, high temperature resistant, 2-part, room temperature cure epoxy with excellent chemical resistance. ET5441 expands Permabond's existing thermally conductive adhesives range, which includes UL94-V-0 compliant single part epoxies, toughened acrylics and a flexible modified epoxy adhesive. ET5441 has been specifically designed to bond metal substrates, when an excellent resistance to high temperature is required, and even retains 6 MPa shear strength at 180°C on steel. It is also suitable for bonding other materials such as ABS, GRP and composite materials. Full cure is achieved in 7 days at room temperature, but it can be accelerated to 24 hours at room temperature followed by 30 minutes at +80°C. Permabond ET5441 provides an excellent resistance to hot and cold water, motor oil, water and glycol. Its high temperature resistance and thermal conductivity make ET5441 ideal for applications such as:
Electric motor magnet bonding
Bonding heat sinks to PCBs
Applications in vehicle battery packs
Bonding parts before e-coating
Permabond TA4611 - for low surface energy plastics such as polypropylene and polyethylene. TA4611 expands our existing range of polyolefin bonders offering high strength and smaller gap fill capability for difficult to bond plastics, with no primer or surface treatment required. It can also be used to bond a wide variety of other materials such as metals and composite materials, making it ideal for bonding dissimilar surfaces. All the adhesives in this range offer good impact strength and chemical resistance. TA4605 and TA4610 offer larger gap fill capability and varying cure speeds. In this image TA4611 is used to bond a polyethylene filter housing.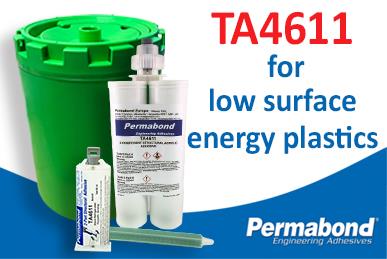 Permabond TA4207 - A multi-purpose adhesive offering high strength bonds with no surface preparation. It is a 1:1 mix ratio toughened acrylic adhesive, which achieves high strength bonds on metals, plastics and composites including carbon fibre and FRP/GRP, with little or no surface preparation. Substrate failure can even be achieved on PET-G, with minimal acetone/IPA degrease. It performs outstandingly well on metals, cutting through oxide layers to form incredibly strong bonds with the parent material beneath. Impressive shear strengths are even achieved on oily steel! In this image TA4207 is used to bond both ends onto a stainless steel filter housing.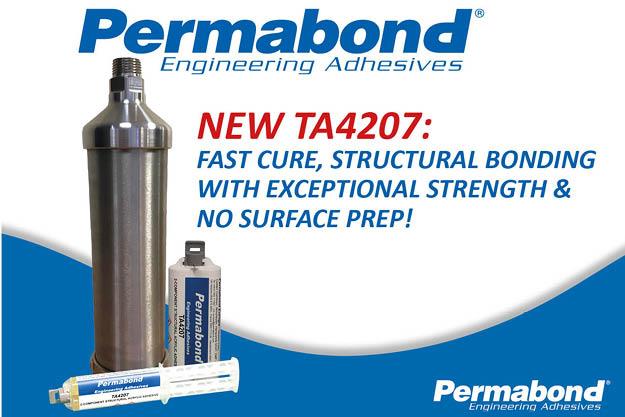 Whatever your application, Permabond will be happy to help you find a bonding solution.
Come and visit us at Southern Manufacturing & Electronics – Stand A165 – you can't miss us. We're right by the entrance!