Based at Thoissey, some 40 km north of Lyon, France, Fermob has switched to a zirconium-based coating solution to protect its outdoor furniture from the elements. Inherent, long lasting quality is prerequisite at a company renowned for products such as the iconic Bistro metal chair, which can be seen adorning cafés around the world.
In New York, for example, colourful Bistro chair and table sets are the features of prominent lounge spaces in Bryant Park, Times Square, Union Square and Broadway. Elsewhere, Champagne maker Veuve Cliquot had Bistro chairs made in a special colour for its bars and retail outlets, while the Roland Garros tennis stadium in Paris uses Fermob chairs for the referees, and benches for the players. Clearly then, the chairs need to look their best at all times.
Although at 150,000 units per annum the Bistro chair is Fermob's best seller, the company produces 250 different pieces of furniture in 25 different colours. Some 3200 tonnes of steel and aluminium are processed every year. Despite the variation and volume, the Thoissey plant places great emphasis on sustainability and environmental responsibility. The powder paints used here are solvent-free, for example, and applied in a zero-waste facility to safeguard the health of both employees and the environment. And now the coating solution to protect the furniture is provided by Henkel in the form of Bonderite M-NT 20120.
Using this system, the metal surfaces are treated with a phosphate-free process prior to painting and as a bonus, there is no encrusting sludge to clean on a regular basis. This not only lowers the need and cost for maintenance, but allows Fermob clearly to separate the cleaning stage from the conversion coating process, thereby helping to achieve much better homogeneity on the surface after pre-treatment. Previously, the iron phosphate and degreasing took place in the same initial step.
The prevailing industry standard for metal pre-treatment involves iron phosphating, sometimes followed by a post-rinse or passivation for further corrosion protection. Although delivering adequate performance, the process effluent has high phosphorous content, and extreme levels in lakes and rivers can have a detrimental effect on the ecosystem by creating an environment that encourages excessive algae growth. Furthermore, frequent tank maintenance is required to remove the phosphorous sludge, while process effluent normally needs to be treated prior to release.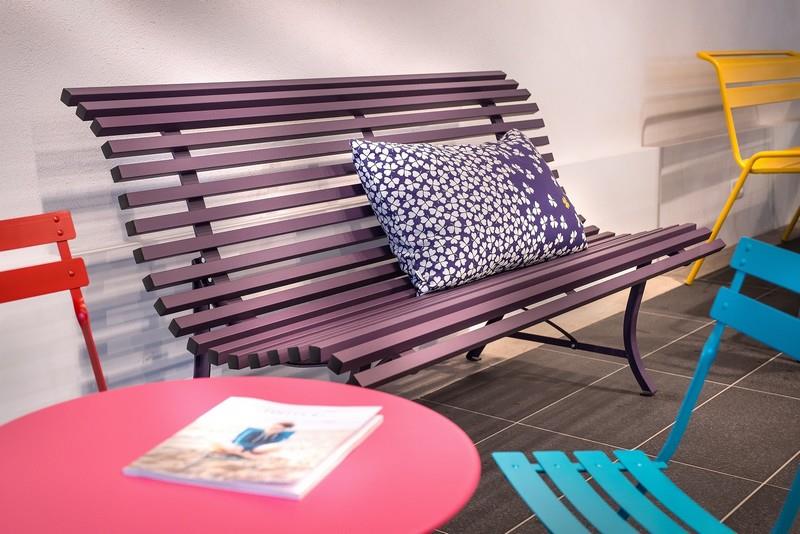 Bonderite M-NT is an environmentally-friendly and efficient alternative to zinc phosphate. This innovative, multi-metal pre-treatment leads to superior corrosion resistance and paint adhesion by forming a cohesive, inorganic, high-density coating. The product is compatible with all commonly used powder and wet paint systems, and can be used with existing equipment with minimal need for modification.
Fermob uses another Henkel product – Bonderite C-AK L-95 – as an alkaline degreaser and Bonderite C-AD CD as a surfactant before applying the zirconium-based coating solution. With a thickness of only 20 to 30 nm, the nano-ceramic Bonderite M-NT 20120 coating is much thinner than the layer achievable with conventional iron phosphating, which is typically 50 to 100 nm. What's more, paint adhesion and corrosion protection are substantially better – salt spray tests show that the switch has improved anti-corrosion performance by about 30%.
"The results have been excellent – not only have we seen a real increase in performance, but we achieved our environmental goals," stated deputy general manager and project manager at Fermob, Philip Jousse.
Eric Ardourel, market development manager added that the new process also makes use of corrosion inhibitors, which guarantee better quality in the case of line stops during production. "The parts are less prone to flash-rusting, which is a problem that normally occurs when the production line comes to a halt for some reason," said Ardourel. "We also helped to optimise the process and the chemical consumption via the use of automatic dosing pumps."
Examples like Fermob's easy and seamless switch to the new technology prove that these new generation coatings provide reduced environmental impact, improved process efficiency and better results compared with conventional pre-treatment processes. Companies that implement the new coatings in many cases also benefit from substantial cost savings, which can provide a major advantage in a globally competitive market.