So innovative is the work that the company has obtained part government funding. So keen is it that even the global pandemic hasn't put it off. By Will Dalrymple
The current determination of Lisi Aerospace Rugby to see through an advanced process engineering project despite a number of challenges originates, perhaps, in the earliest days of the firm. Founded in Coventry, corporate ancestor AR Pemberton was bombed during WWII. But it rebuilt itself all the same, after moving to Dunchurch (Rugby).
Lisi produces almost exclusively airframe fasteners made from aerospace titanium alloy (Ti₆Al₄V), an expensive, hard and relatively light material. Its threaded fasteners range from 5/32nd-in to just over 1-in diameter. The site is currently producing in excess of 150,000 per day. There are some 8,500 part numbers in production, with the majority of the factory making high-volume parts in batches of between 30-40,000. High-volume production is the focus of the smart factory programme.
All start as wire or bar and are either forged to size (again the smart factory focus) or ground on centreless grinders. Also carried out on site is heat treatment, annealing, plating, anodising, as well as secondary operations such as drilling, trimming, grooving and thread rolling. A part may go through 30 different processes, start to finish, and almost all of them are done on-site. The site has 1,100 assets; some 350 different machines are involved in production.
Many of these processes are controlled by aerospace industry qualifications, which make the aerospace market very difficult for suppliers to enter. Lisi holds not only common standards such as ISO 14001 and AS9100 for quality, it is also a grade-A Airbus supplier, and has a Boeing qualification too. But a major requirement is NADCAP, which covers special processes. "A simple way to describe that is a process that can change the performance or quality performance of a fastener that you can't directly measure. Measuring a diameter is easy, but if it's tensile strength which is determined by the heat treatment process, it relies heavily on process controls. We have accreditations on heat treatment, materials testing, chemical treatment – for plating – and NDT. They're essential to be part of the aerospace market," says Lisi Aerospace Rugby general manager Mark Capell.
COVID
After the war, AR Pemberton was bought by Aircraft Fasteners in 1970, and then toward the end of the decade split into Aircraft Fasteners Ltd and Aircraft Fasteners Forged Parts Ltd. Since then, each carried on, although under different owners: the former, now called AF Aerospace, under Apex; the latter, Blanc Aero Industries (BAI UK) under French-owned Lisi Aerospace. But when COVID hit, the two former corporate siblings diverged radically.
While others cut deep and cut early, Lisi's approach to the pandemic was to prepare for the eventual recovery and ramp-up in production, so held on to as many skills as possible, and prepared for the smart factory vision. It did use furloughs and also made some staff redundant. Capell admits that although it was 'really tough', the company kept its nerve as aircraft passengers fell by 65% at the height of the pandemic in 2020.
He states: "There were two elements to our pandemic response. First was the immediate challenge: it was a big unknown. I'll never forget March 23rd when the announcement was made; my phone started ringing with people asking questions that I didn't know the answers to, and the government didn't know the answers to. Second, at the same time we have carried on with our long-term vision for a smart factory, and for retaining and developing the workforce. That's where Ondrej was important." He was speaking about Ondrej Polak, process development manager, pictured on p18, at left, with Capell.
For his part, Polak said: "We do R&D. Most things we do are important in five years' time. Quite easily, the management could have said, my team is gone, the manufacturing project is gone."
But they did not. "When our funding was internally cut because of the pandemic, we didn't give in; we looked at other ways of achieving what we wanted to do," states Capell.
Partly, he admits, that came down to having a new management team with a supportive culture. Capell only took over the general manager role a few months before. He also had a new HR manager, financial controller, facility and maintenance manager, quality manager and a production manager. Also, he had a history with Polak: "he was a very strong asset; he was a big ally at that time."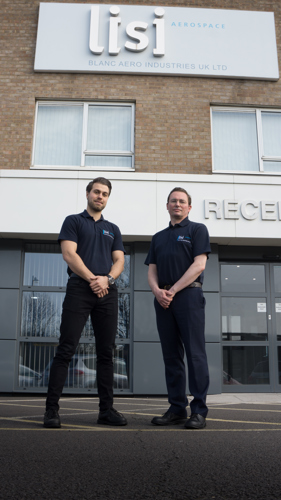 WHEN IT STARTED
The two had first got to know each other more than a decade before, when Capell was a production manager in the factory's plating department where Polak was a machine operator. "The plating department was quite forgotten. In three years, we turned it around, and people started to want to work there, because it was performing well," Capell recalls. The same thing happened when both men moved, independently, to the low-volume batch production unit. He continues: "There were a lot of processes neglected there, and it didn't have good efficiency. It needed a lot done. So I put together a team, and within 2-3 years, the internal quality performance of the department improved by 70%. There was a culture change, and a change in mindset." That second success teed up Polak's move to engineering, although Capell went on to improve one more area – the feeder department – before winning the general manager post.
His promotion cued conversations with the previous general manager about the future of the business, and what the structure of the company might be in future. At the same time, as the concept of industry 4.0 started to be discussed in the media and in conferences, Polak became inspired to start working on a smart factory vision. Observes Capell: "A really important and key part of this was having a vision, which he didn't deviate from." However, although the company had good people in the engineering department, many lacked the ambition to take a leap of faith. The traditional production engineers also lacked the IT skills that Polak expected he would need. It took a year, through redundancies and new hires, to restructure the department.
Recalls Polak: "I did extensive research, and said to Mark's predecessor, this is huge. It should be our core strategy for the next 10 years. It will make us world-class. We want to be the best. That's not something that we can deliver on our own. We need an external partner that sits in technology, with a big team." Initially, the company contracted AMRC in Sheffield to do a four-day exploratory workshop. The AMRC analysts thought that the idea was so innovative, they suggested that the company apply for R&D funding from Innovate UK. The application was successful, and opened up a £975,000 grant for half of the project costs (excluding capital equipment), according to Capell.
The trouble was, although everyone was talking about Industry 4.0, nobody could show any actual relevant projects. When it came to the world of making things, they didn't exist; there was no benchmark.
WHAT IT IS DOING
By way of explanation, Polak holds up a small integrated circuit board, part of a microcontroller PCB which integrates with Raspberry Pi hobbyist mini-computer components. It was developed and built by a Lisi UK team. He says: "I don't know any company of our size that is producing this kind of thing. We created an interface for existing production equipment to understand what is going on in a process. When we are making parts, it is integrated into the shop floor, so we can get real, detailed insights. This is not the end product. That is to design machines to enable this to happen. You can't introduce AI to a machine that is not designed to cope with data. Machine learning is what we are trying to do here, and we need data, and most important of all, good-quality data, that you can get from sensors on the machines. If a machine is not designed to have sensors in the right place, it will produce inconsistent data, and you can never build an accurate model."
He continues: "You can have the best structure in place, an established culture, and then the limitation will be the technology on the shop floor. If it is 45 years old, it won't be able to do machine learning, and you won't have the huge benefit of automation of the decision-making process. In high-volume operations, the machines make parts until you stop them. The machines take a long time to set, and everyone sets them differently, and when there's a problem, people chase their tail: 'it's the tool'; 'it's not my fault.' This is where we come in with the smart factory: demystifying that process and bringing it into the world of science. People talk about expertise, but nobody is capable of understanding all of the physical relationships in the process; that is what advanced analytics is for."
The company is currently half-way through a project that started, after a COVID-related delay, in October 2020. Polak describes it like this: "In terms of machine learning, we have two proofs-of-concept: two existing machines have been retrofitted with sensors, to generate data to make a model. We are able to use the data to test whether the part is good or bad without measuring it physically. We have achieved 95% accuracy in that decision. That we can do this on old equipment makes us confident that with new machines we can achieve a 99.97% figure, which is our target."
The first phase, with public funding, is due for completion by 2023. By then, the majority of the first production line will have been transformed, and Lisi will need to invest in several more machines. After that, it will be rolled out to three further lines, by 2027 to the majority of the high-volume operations. At that point, management will review whether it continues with the roll-out, or not.
Meanwhile, Lisi has also had to find new ways to develop the staff that will manage the new process. Having searched in vain for teaching materials in industry, Lisi resorted to making its own. "Our line technician, who is an operator of the future, needs to have a data literacy course – the fundamentals of statistics – because these machines generate loads of data. They [the operators] are not responsible for developing optimised machine learning; they are not responsible for making dashboards in the visualisation software. But they need to understand what they are seeing, and they need to be able to challenge me," states Polak.
"I want to train them into six sigma green belts. That is usually at the level of production engineer. And project management training too: 75% of the time they will be setting the machine. The rest of the time they will be working on projects. We want to make modern jobs that people want to do. Problem-solving methodologies. Office 365. Quality assurance and product knowledge. We want people to be able to think. Lean principles: how to organise and implement production. And effective communication: soft skills are important."
Adds Capell: "Compared to the current training plan, this is very different. And we're not just looking at the first round of recruitment; these guys are going to be the future line leaders. Of course a lot of the workforce is very sceptical; they don't like change. The whole project to some degree is a leap of faith; it's a test of how committed we are."