Not only is FAST Live the UK's only dedicated fastening exhibition – the next event is fast approaching! It will be held at The National Conference Centre, Solihull, and now is the moment to register to be there.
FAST Live is your opportunity to meet with the true experts in fastening and bonding. Your time at the event won't just save your project or production time and money – it can also open up new and rewarding opportunities that you may not otherwise have considered!

Seminars at FAST Live
As ever, running alongside the exhibition will be a series of technical seminars delivered by fastening and materials experts, focussed on helping visitors solve design challenges in fastening, bonding lightweighting, materials selection and multi-materials joining. What's more, the seminars are now CPD accredited, which means that delegates will be eligible for CPD points by attending the sessions. September's seminars include:
Bob Goss, senior technology specialist - technical customer services, Henkel
This talk will describe the many different types of cyanoacrylates (CA's) and discuss some surprising applications for them. The talk is aimed at design, development and production engineers who may be involved in the selection and recommendation of adhesives for industrial applications in a wide variety of industries.
The seminar will include practical demonstrations and information on designing joints for adhesives as well as methods for dispensing adhesives in automated production lines.
Thomas Wood, managing director, Adhesion Technologies
As you may have read on page 32, Spida fixings replace traditional nuts, bolts, rivets and welding. No drilling required. Their unique shape construction and bond surface provides enhanced strength so that fewer fixings are required. Now for composites structures, Fiba Spida is like buying your fabric with these fixings built in. A significantly stronger method of mechanically joining metal, composite and other materials together with enhanced peel, shear, torsion, cleavage, tension and compressive loading capabilities.
5 things delegates will learn during this session:
How using Spida Fixings can save weight, production timeand cost
How using Spida Fixings gives design engineers / manufacturers design freedom unavailable with current fixing systems
The technical data proving the benefits and universal applications of Spida fixings; Increased fastener strength, bond strength, stress dissipation.
The potential of next generation compositefixings: Fiba Spida – fixingsmoulded into carbon fabric
Learning about newcomposite mouldingtechnologies; its patentedmatrix and attenuating process.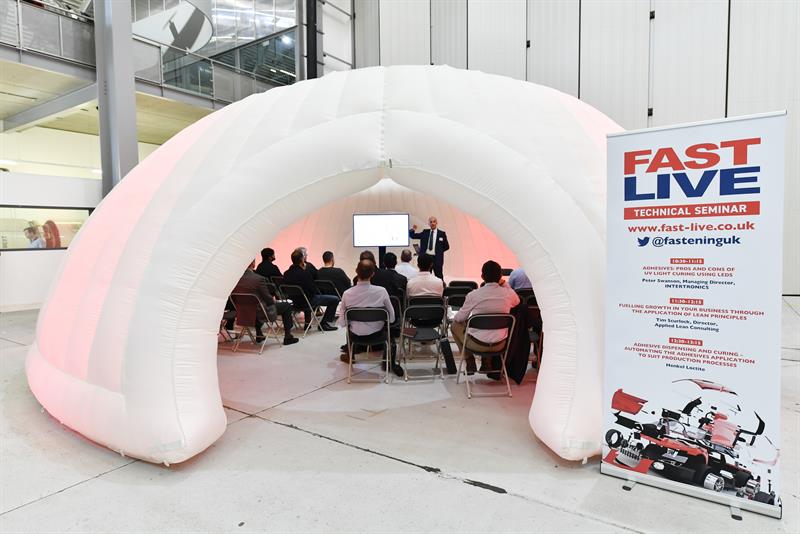 Engineering Materials Live
Co-located with FAST Live is Engineering Materials Live, a specialist UK exhibition meeting the needs of engineers tasked with sourcing and specifying plastic mouldings, composites, prototyped parts and advanced engineering materials - and it is all FREE to attend!
Selecting the right material for the right application is crucial to the success of any design project, which means working with suppliers that have the materials expertise and application knowledge - this is why Engineering Materials Live was created.
Further reasons to attend the show
Here are just a few more reasons why you can't afford to miss FAST Live:
Find an innovative solution – discover lighter, cheaper and better alternatives to traditional fasteners, see new joining processes and connect with some of the UK's leading fastening suppliers
Live product demos – many exhibitors will be launching products, so come and experience interactive product demos in areas including adhesives, bonding, surface preparation, nut and bolt assembly and more
Learn from technical seminars – known to be 'standing-room only', the seminars focus on a variety of problem-solving solutions covering many engineering applications and design needs, including structural adhesives, lightweight fasteners, multi-materials joining, and bonding
Network with fastening suppliers – do you have a special requirement that needs a specific solution? Then this is the place to be and the people to see!
Time-efficient for you – with an early opening time of 8:30am, you can get in, get around, get fastening solutions and get back to work with the minimum of time and fuss
Everything is free – FAST Live is free to attend, with free parking, free breakfast roll (if you arrive before 10:30am) and free Wi-Fi.
For more information, go to: www.fastenerexhibition.co.uk.

FAST FACT FILE
WHAT: FAST Live
WHERE: The National Conference Centre, Solihull
WHEN: Thursday 19th September 2019, 08:30-14:30
WHY: Because, whatever you're designing or producing, we guarantee there will almost always be a better way to put it together. Need to reduce costs? Keen to speed up production? Want your joints to resist vibration? Seeking a way to join dissimilar materials? Looking for lightweighting solutions? All of this can be addressed with a visit to FAST Live.
HOW: Secure your FREE visitor badge now!
www.engineeringmaterialslive.co.uk/
register-to-attend
What they say about FAST Live
Here are some of the positive comments made by exhibitors about FAST Live:
Danna Aerts, Nedschroef Fasteners: "For our company, it was a very positive exhibition, it was a small investment for a more than satisfying outcome."
Matthew Aldridge, igus UK: "The show was excellent; we were busy for the duration."
Richard Avery, Zygology: "Some interesting leads have come out of the show."
Mervyn Element, Spiralock of Europe: "I was very busy... the enquiries seemed to be genuine and there should be some business out of it."
Barry George, First Components: "The best exhibition we have ever done."
Peter Boote, Specialty Fasteners & Components: "The show was one of the best we have been to."
Simon Dearing, Eurobond Adhesives: "The show for us was the best that we have participated in to date... good quality people, with good quality applications."
Ben Hayes, Metal Improvement Company: "It was so refreshing to attend a well organised and publicised event that managed to condense 600 visitors into a single day. Set-up and breakdown couldn't have been easier, making for an overall enjoyable experience, whilst obtaining a number of quality leads and contacts!"
David Hayes, FATH Components: "Absolutely brilliant – the best exhibition we have done, anywhere, ever. Well done."
Adrian Symons, Protex Fasteners: "Our best ever FAST Exhibition!"